What's new -Montreal South Shore
New Products 2022
We are pleased to announce new LED lighting products. These aluminum profiles will optimize your lighting design.
To purchase these new products, you can visit our online shop by clicking here 
If you have ambitious new projects, you can always contact us, and we will be happy to select and design a product that meets your expectations. 
New products 2022 :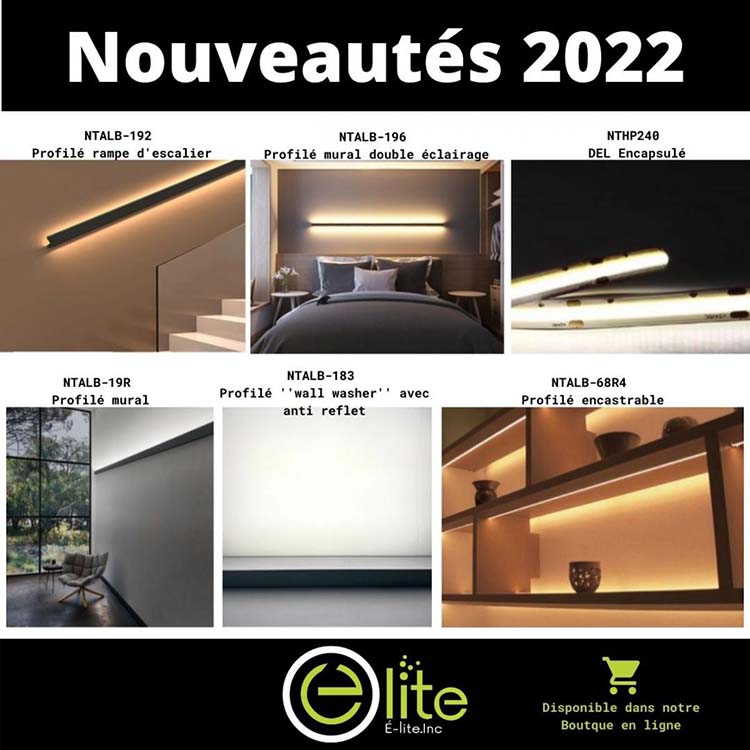 New product: New generation outdoor and indoor speakers
Out Back MK2 speakers are designed to deliver :
Rich, full sound Speakers can be subjected to temperature changes and exposure to high humidity
Ease of installation on various surfaces
Sealed, salt-tested marine grade enclosures
Rugged and extremely weather resistant for all seasons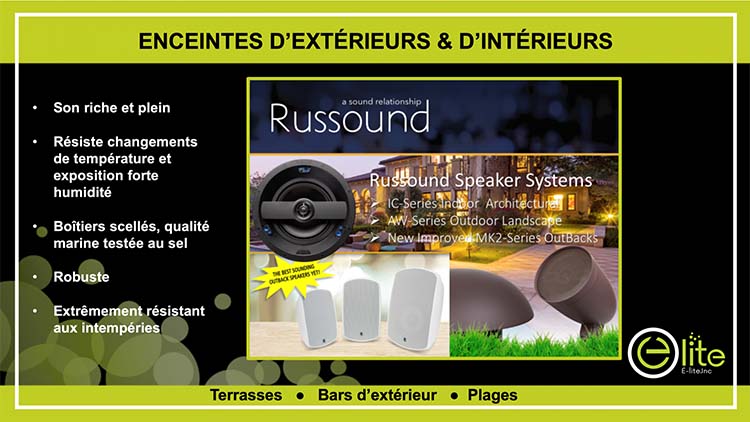 New product: amplifier with bluetooth wireless technology
2×30W Class D wall plate amplifier with Bluetooth wireless technology
3.5 mm analogue stereo input
4 ohm / 8 ohm stable
Supports automatic source switching with priority for the Bluetooth enabled source
Three-minute link loss timer function
Integrates easily into a single-gang low-voltage housing
New product: RGBW LED
The NTTLC-24W-RGBW-24 V is equipped with 6 pcs 4 in 1 RGBW Cree which combines durability and efficiency. The quality of the materials and the design of the product give you maximum light output in lux and energy efficiency in lumens/watt.
Designed for performance and durability, this product allows for a myriad of innovative lighting solutions :
Architectural lighting of buildings, facades
Lighting of various infrastructures
Ponds, statues and more,
Columns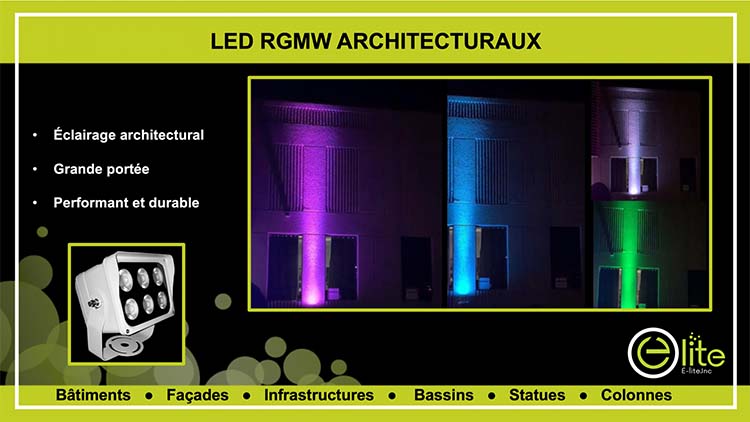 Multi-room sound system or multi-room 
We prefer wired ceiling speakers. The audio source can be wireless, and the system can be controlled using a phone or tablet.
This also avoids having to install volume controls in every room. If your home is not being renovated or built, then wireless speakers are an interesting option.
New Product: DEVA Advanced Multimedia System
As an advanced multimedia device, Deva is a convergence of several devices that can be easily deployed anywhere, allowing automated and direct interaction with the audience.
Its camera, high-powered speaker and multiple sensors are designed to complement each other and interact with third-party applications to provide a range of services from security to information and entertainment.
New product: Festoon light strings
A decorative string light system (warm white, cool white, amber) that brings the elegance of vintage string lights to any event.  The ropes and bulbs have an IP43 rating, so they are perfect for outdoor use. Festoon vw has a programmable pixel pattern function so you can express your creativity.
Each bulb holder has eyelets for quick and easy assembly. This product is even more versatile and convenient with its USB D-FI compatibility for wireless master-slave or DMX control.
Even without DMX, you can create incredible lighting with built-in automated programs and stand-alone non-DMX controls from the optional digital display or IRC-6.
A variety of other decoration options such as paper lanterns can be hung on festoon to change the design.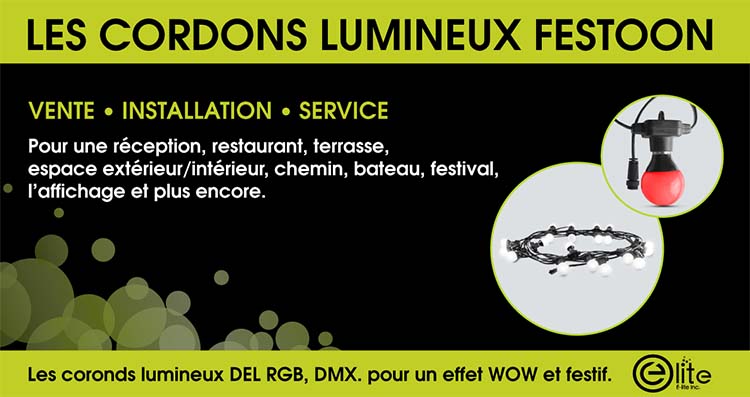 New product: Proud distributor of SONOS audio systems
Sonos – Wireless Audio System
Enjoy clear, beautifully detailed sound that fills the room at any volume. Easy to use. Listen your way.
Now available at Elite-inc.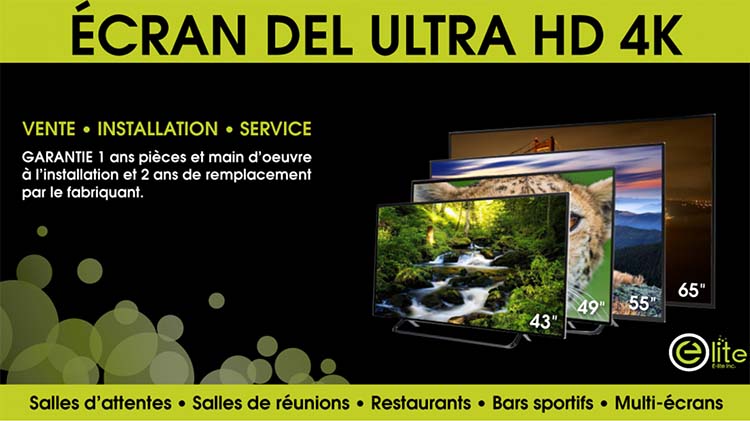 New Product: Ultra-HD 4K LED screen
Sales – Installation – Service
Whether for a waiting room, to present your products, entertain or inform your customers. Whether it's for a conference room, a meeting room or for your offices. Whether for a sports bar or restaurant.
Whether it is for a video wall or networked information sharing, we would be happy to present our solutions to you.
Trust us with your projects